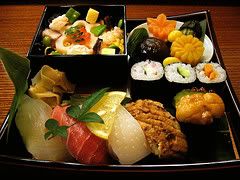 16tspencer
If you are looking for sushi and you really, really love sushi, then here is a list for you. These are some of the top rated restaurants from people who have eaten there and know their sushi. Of course, not everyone will agree on everything, but for sure these restaurants were rated by lovers of the Sushi Bar.
San Francisco is famous for many things such as the Golden Gate Bride, the cable cars and it's sushi. San Franciso is famous for being the most beautiful city in America to visit and its open door policy for all lifestyles and its sushi. San Francisco is famous for being the city that survived after the great earthquake and for its love of sushi.
1. Ino Sushi:
Ino Sushi got a four out of five stars and it seems the favorite there is the Monk Liver. Comments were that you must try the Monk Liver. This is a very small place, not holding more than 15 persons and reservations a must. Even if there are empty tables, you will not be served without a reservation. The best place is to start, is at the bar and say, "Omakase Please." The bartender will make you a delightful dinner that you will never forget.
Some favorites from the Ino Sushi are:Bluefin tuna, Toro (Kobe fish), Pike, Engawa, Saba, Uni, Unagi,
Ankimo and Ikura.
You want to know how good it is? (comment of a sushi lover)
"We rarely know what he charged us for or what the price of each item was. All we know is that we are finished with our meal and the bill has arrived - and whatever the cost, our mouths and stomachs are screaming that it was worth it."
Pacific Heights, Japantown
22 Peace Plaza
Ste 510
San Francisco, CA 94115
(415) 922-3121
2. Ace Wasabi's Rock and Roll Sushi:
A nice restaurant at a affordable price with a bar and a comfortable area in the back for family dining. The Marina locals hang out here and a very busy center. The front area is meant for the social life with the pub and the bar.
Some of the specialties are: The Three Amigos with tuna, yellow tail, eel and veggies, Ace Wasabi crab, and eel and macaedamia nuts. The price range is from $4-10.
3339 Steiner St, San Francisco, CA 94123. Cross Streets: Between US-101 and Chestnut St. 415-567-4903
3. Maki:
The Maki is a five star restaurant , which is both intimate and diminutive. It has an exquisite array of Japanese cuisine. The Maki offers wappa meshi, kalseki dinners and sushi of all kinds.
The Maki has casual and intimate dining. There is also outdoor dining. The average course price is $20.
1825 Post St, Japan Center San Francisco, Ca 94115 415-921-5215
4. Sushi Grove:
The Sushi Grove is a modern restaurant that has a cafe-like atmosphere. Crowds of people flock to this trendy restaurant with its reasonable priced meals. They have creative sushi and they specialize in premium and freshness. They run specials every night, but the favorites here are toro and octopus.
The restaurant aims to suit all with full dining and starter meals and of course plenty of sakes. There are romantic areas in the restaurant and casual dining also. The average cost of a meal is $18.
1916 Hyde St., San Francisco, CA 94109 415-440-1905
No matter which restaurant you try, the end result should be extreme satisfaction, pleasure and fulfillment of a hope and a dream. Sushi is not for everyone, but for true lovers of Sushi, these restaurants are the icing of the cake.
Photo courtesy of Photobucket 16tspencer