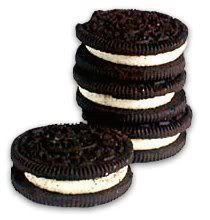 Now who does not like Oreo cookies and if you love Oreo Cookies, You will just love my Oreo Ice Cream Pies. This recipe is simple to make and there is no need to run to the grocery store to buy an expensive pre-made crust. What I do for myself is to make mini Oreo Ice Cream Pies. So I press the mixture into mini pans that have been sprayed with non-stick spray. If you want to go "hog wild" then butter your pans

liberally with melted butter and then press in the mixture.
Ingredients
20

OREO Cookies

3 Tablespoons melted butter

PLACE the Oreo cookies in your food processor and pulse until you get a very fine powder. If you do not have a food processor you can place the cookie in a large resealable plastic bag. Using a rolling pin crush the cookies to a very fine powdered crumb.

ADD in your melted butter, using your fingers to mix well.

PRESS your crumb mixture onto bottom and up side of 9-inch pie plate sprayed with non-stick cooking spray. To make pressing easy, use the bottom of a measuring cup and press firmly in place. Make sure to use this immediately or freeze for later use. l.

These are My Pans - Order Here
.
How to Easily Serve Crumb Crust Pies


When serving a crumb-crust pie, dip filled pie plate in warm water for 10 seconds, being careful to dip pie plate to just below rim. This will help loosen the crust to make it easier to serve the cut pieces.


Also Read;