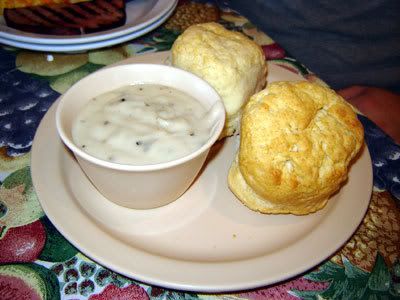 T

his recipe is for my darling son, Michael and his love, Marsha. They are moving into their first home and he remembered mom's recipe. I so wish I could be there to cook these for him. I miss you Mikey.
2 cups flour,

2.5 teaspoons baking powder,

½ t. salt,

1/2 stick of cold butter, chopped

3/4 cup milk
Directions:
Combine flour, baking powder and salt and mix well. Cut in the butter until mixture resembles coarse meal. (Rub the mixture between your fingers in the end to help the coarseness).

Add the milk to the flour mixture, stirring until dry ingredients are moistened.

Turn dough out of a lightly floured surface, knead lightly 5 - 6 times, but not too much as you do not want to make them tough.

Roll dough to ½ inch thickness; cut with a biscuit cutter or sharp knife. Place biscuits on a lightly greased baking sheet.

Bake at 450 degrees for 12 minutes or until lightly browned. Makes 12 biscuits.
Note: If you do not have a biscuit cutter, simply dip a small glass in flour and use that.
Nothing is simpler to do and if you follow these instructions you will be home free.
2 tablespoons oil

1 tablespoon flour

2 quarts of milk

or as needed

Salt and pepper for seasoning
Place the oil in the skillet and heat slightly. Add in the flour and quickly stir around until slightly browned. Season the flour mixture.

Slowly add in the milk, stirring constantly to avoid lumps. Use only one quart at a time. Let the gravy thicken and add additional milk to thin and get to the right consistency.
The gravy will thicken, so let it bubble good and then add a bit of milk and let it thicken and then add more. Season the final gravy and place in a gravy boat or right on top of the opened biscuits. A meal fit for a king.
Note: For those wanting to have something with more taste, you can add some ground beef to the gravy for more flavor. Some will use bacon grease, but as I never advocate pork, I cannot do that.